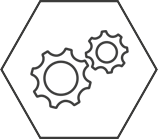 SERVICES THAT PROVIDE SUPPORT THROUGHOUT THE PROCESS.
Implementing a project from start to finish requires numerous skillsets and, in most cases, calls for extensive experience. BTR Industry offers a full-service concept, whereby we, as service providers, assist with all facets of a process. We offer services such as dimensioning, calculation, construction, procurement, and the project and production management of pressurized products and systems. You can choose specific stages of a project where you wish to obtain our assistance, or to partner with us for the entirety of the project.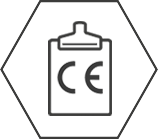 CE marking
The CE marking is a guarantee of quality and is a product requirement within most tendering processes. BTR Industry has extensive experience and expertise in terms of CE-marked pressurized products. We are familiar with the stipulations of the Pressure Equipment Directive, and knowledgeable about the specific regulations and standards that apply. We collaborate with you, as our client, and a third-party body, to create a product that fulfils the prevailing requirements and standards. If you require CE marking.