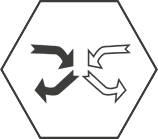 SECURE DELIVERIES FROM BTR INDUSTRY
Our industry has little or no room for deficiencies or errors. We provide you with operational materials and products that match the requirements and specifications of your customers. These may pertain to heat-exchange tubes, boiler tubes, end caps, manhole covers, quick-sealing caps, pipes and piping components or metal works. Necessary certificates and documents are of course included in our deliveries.
You are welcome to contact us, whatever your present needs may be! Contact us!