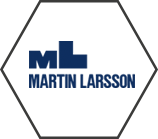 The Martin Larsson brand has a history that spans more than 80 years. As one of the market leaders for components such as pressure vessels, heat exchangers and air coolers, and with an offering that ranges from construction to finished products and installations, the brand had been an industry giant for decades. However, the company discontinued operations in spring 2015 and the Martin Larsson brand is presently owned by BTR Industry.
BTR INDUSTRY ACQUIRES THE MARTIN LARSSON BRAND.
BTR Industry has acquired the Martin Larsson brand, which means that we now own the brand name and logotype, among other features. The acquisition included plans and documentation collected over many years, which helps to create confidence among long-time customers who need to place new orders. We acquired numerous calculations and the manufacturing notes of complex productions, that could potentially serve as documentation for new construction projects. This represents a multitude of opportunities for both new and old customers.
"We consider the acquisition of the Martin Larsson brand, along with its associated documentation and notes, to be highly valuable and complementary to our current offering. While we can now offer many former Martin Larsson customers a sense of continuity and security that we hope will be appreciated, we also possess expertise that is of considerable interest to our new customers," explains Henrik Törnqvist, Managing Director of BTR Industry.
Martin Larsson is a known and established brand, primarily within the pressurized-vessel sector. However, in spring 2015, the company discontinued its operations. All three managing partners of BTR Industry have had a past within the Martin Larsson company. Consequently, much of the know-how, experience and contacts remain in BTR Industry, which we hope will benefit our customers in a number of ways.